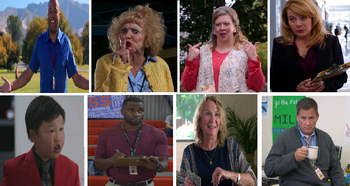 Minor Characters are onscreen-credited figures appearing in Andi Mack without a separate article of their own elsewhere. They are listed here in order of their appearances:
Coach Reznikoff
Coach Rezikoff is the P.E. teacher and track coach at Jefferson Middle School. He recruits Buffy to join the track team, and is impressed by her raw prowess. However, he is disappointed it takes a little longer for her to learn the basic principles of teamwork for the entire squad to succeed. Coach Reznikoff was played by Lonzo Liggins.
Trivia
Cyrus has been known to make use of the Coach's whistles when he is not around.
Mrs. Devlin
Mrs. Devlin is the head librarian at Jefferson Middle School. She has been there so long that Bex is surprised that she is still there. She is known for keeping absolute quiet in her library. Andi barely survived with her sanity intact during her library detention period for sleeping in class.   Mrs. Devlin was played by Dee Macaluso.
Trivia
Mrs. Devlin bears a striking resemblance to the evil librarian depicted in the horror film Shhh!
Lillian
Lillian is the neighbor of Celia and Ham Mack.  After the female Dr. Goodman has spread the secret true parentage of Andi throughout Shadyside, Lillian decides to needle Celia a bit as she gardens, and is drenched by water with Celia's spray hose until she retreats.  The incident convinces Ham to take Celia on a short trip out of town.  Lillian was played by Colleen Baum.
Ms. Dullridge
Ms. Dullridge is the Vice Principal of Jefferson Middle School.  She once called Buffy to her office because a student claimed her hair was too distracting.  Although Buffy did toy with changing her hairstyle, the matter was quietly dropped after the charges proved to be groundless.  When Bowie Quinn decided to spend a day getting to know his new found daughter, Vice Principal Dullridge personally escorted him to Andi.  After assuring them both that the school was poised to do all it could to help the Mack family through their new familial transitions, she leaves them to get acquainted.  Ms. Dullridge was played by Sarah Kent.
Trivia
Picture Day Photographer
The Picture Day Photographer was seen doing his job, taking school photos on the same day the Good Hair Crew stages a protest on the dress code by wearing convict uniforms. This causes Cyrus to be rather stiff at his sitting as he intended to wear a selection from the "James Bond Collection" instead of the prison garb. However, he soon warmed up under Buffy's teasing, and eventually enjoyed himself, and even intruded on Buffy's photo time as well. Ultimately, the school scheduled another photo day. The Picture Day Photographer was played by David Brown.
Space Otters Photographer
The Space Otters Photographer appeared to be in a hurry, as he seemed to resent being saddled with chronicling all the fringe elements of Jefferson Middle School for the yearbook. His attitude annoyed Jonah, but he was more concerned that Andi refused to wear her uniform shirt and chose not to be in the Space Otters photo. The Space Otters Photographer was played by Tito Livas.
Kip
Kip was a student at Grant High and apparently a member of the football and baseball teams. Once, while at The Spoon Diner with a group of friends and Amber and Jonah, he belittled Ultimate Frisbee as not a true sport as real sports like football or baseball did not require an extra word to try to convince people how great they were. Jonah took the jab, but still insisted Ultimate Frisbee was a valid activity. Kip was played by CJ Strong.
Mei
Mei is the sister of Celia Mack. The two siblings are very competitive with each other. In Chinese New Year, Celia scrambles to prepare for Mei's arrival and hangs up a clock on the wall. Some time ago, Mei gave it to Celia. However, Celia hates it so much that she only hangs it up once a year when Mei visits. When Mei comes over for Chinese New Year, she criticizes Celia about many things, such as the "year of the rooster tilapia disaster." Mei also brags about her daughter and son-in-law, who are in a castle in Tuscany. Mei is very proud of the clock she gave Celia, saying it was hand-carved out of the very finest black forest wood. When the truth is finally revealed that Celia hates the clock, Mei leaves in a huff. Mei was played by Freda Foh Shen.
Ronald
Ronald is Andi's second cousin. He visits Celia and Ham's house for Chinese New Year. He is obsessed with magic tricks, and tries some out on Andi and Jonah. One of these tricks is pulling a shark-shaped gummy out of Jonah's ear. Later, he is shown pulling an infinity handkerchief out of his mouth, which displeases Mei. Ronald was played by Alan Ko.
Coach Purcell
Coach Purcell is the basketball coach at Jefferson Middle School. He allows girls to try out for the squad. He ultimately selects Buffy for the team. When Buffy and TJ struggle to co-exist on the team, he tended to ignore it until Buffy called for a timeout during a crucial point in a game. Coach Purcell was played by Jay Whittaker.
Appearances
Trivia
Actor Jay Whittaker is a military veteran in real life, and has said how gratified he was to take part in the episode in which Buffy's mother returned home from overseas duty.  
Millie
Millie is a neighbor of the Driscolls.  When she needs school credit for community service, Buffy decides to see if Millie needs anything done for her, as she is an older lady.  Millie is cynical of Buffy's offer and the two discover they share similar temperaments.  Millie states that all she really wants is someone to play cards with, as  she claims all her family and friends are "long gone."   Perhaps feeling a little sorry for the older person, Buffy agrees to play cards.  Some hours later, Buffy has yet to taste victory, and Millie is not above constantly needling Buffy with that fact.  Buffy states her determination not to leave until she wins one game.  However, then she receives a text about Cyrus being in the emergency room.  When Millie reminds Buffy of her pledge, she reveals that her friends and family are not dead, but have been driven away by her unrelenting competitive streak.  Buffy realizes that she and Millie are quite alike.  Before leaving to be with Cyrus, Buffy tells Millie she will be back.  Millie was played by Juliet Mills.
Trivia
Millie reveals she and Buffy share the same favorite food, milkshakes and baby taters.
Juliet Mills is an acclaimed actress, and the older sister of Disney Legend, Hayley Mills, as well as the daughter of additional Disney Legend, the late Sir John Mills.
Mr. Plimpton
Mr. Plimpton is an English teacher at Jefferson Middle School. On the day the students were separated into "A" and "B" groups, he announces a pop quiz. Mr. Plimpton assigns the "A" pupils a simple connect-the-dots puzzle of a giraffe, while handing the "B" side a 20-page packet of math proofs, and tells the class they were excused after they finished their tasks. When questioned by Andi about the differences between the tests, the jaded teacher simply states he is seven years from retirement, and to just do the work. Mr. Plimpton was played by Bob Bedore.
Coach Jim
Coach Jim is a P.E. teacher at Jefferson Middle School.  On the day the student body was divided into "A" and "B" groups, he decided his Gym class would play Dodgeball, however, the "B" side would all have to wear blindfolds.  This caused the Coach to note, "There's no crying in Dodgeball."   He was later seen participating in the game, while not actively throwing at the visually impaired "B" students, he did provide balls for the "A" side to hurl at the hapless targets.  Coach Jim was played by Jack Diamond.
Trivia
Jack Diamond is the second assistant accountant for the Andi Mack TV series.
Diamond also provided the voice of the teacher that gave Andi detention in Shhh!.
Cater Waiter
The Cater Waiter is seen at Jefferson Middle School delivering fruit smoothies.  While Andi is speaking with Jonah during his Art class "project,"  the waiter hands Andi her smoothie.  As the pair continue their conversation on the strangeness of the school day, Andi states "This is wrong." Jonah agrees.  However, Andi sheepishly admits she meant her smoothie order was incorrect, and the Cater Waiter gives her the Strawberry-Banana one she wanted. The Cater Waiter was played by Jake Brown.
Trivia
The character wears a plastic tag bearing the name "O'Malley," however it is not clear if that is his own name or that of the catering company.
Mr. Coleman
Mr. Coleman is a Math teacher at Jefferson Midddle School. Recognizing Buffy as one of his best students, he asks her to tutor a classmate in Algebra. Buffy is hesitant, as she has never tutored before, but her teacher is confident she can do it, especially for a teammate.  Buffy knows that there was only one member of the team she would refuse to help, and that one exception, TJ Kippen, just happens to walk into the room.  Neither student is happy with the situation, but Mr. Coleman tells TJ he has no other options.  However, Buffy refuses, throwing back TJ's own words back at him, stating that his troubles are not her problem, and leaves.  Mr. Coleman was played by Andrew Diaz.
Trivia
TJ tells Buffy that he admitted to possibly having dyscalculia to Mr. Coleman in A Walker to Remember.  He also confessed that she did his homework, and subsequently, Mr. Coleman has Buffy suspended from the Basketball team.
Dance Instructor
The Dance Instructor ran a weekly dance class frequented by Celia Mack, and infrequently, by her granddaughter, Andi. But for a single session at the Freestyle Dance Studio, he had all three generations of the Mack women present, when Bex Mack joined the rest of her family, for an energetic workout. The Dance Instructor was played by Jeffrey Louizia.
Furious George
Furious George is a famed Frisbee player, one of the top ten players in the world according to the Ultimate Disc power rankings.  He travels to Shadyside to host a master class on trick shots.  Jonah and his friend, Natalie, attend the trick shot class in Shadyside Park, but neither are aware Cyrus and Buffy are secretly spying on them.  Natalie, who has a web channel, asks George to film a video with her, and he agrees to shoot it the next day at the same location in the park.  She also asks Jonah to appear, who initially also agrees, but cancels at the last minute because of a prior arrangement he forgot about with his other friend Andi Mack.  However, while George was waiting to start filming, a girl wearing a pink jacket arrives, looking for Jonah.  Recognizing the other girl as Andi Mack, Natalie tells her Jonah said he was going to the sing-a-long instead--sending Andi running back the way she came.  Furious George was played by Patrik Connole. 
Trivia
Furious George is a clear reference to "Curious George" the beloved fictional monkey children's character created by H.A. and Margret Rey.
Barker
The Barker is seen at the 16th Shadyside Renaissance Faire, calling for faire goers to "proveth thy mettle," in a tug-of-war set atop wooden platforms.  Buffy and Jonah take up the challenge.  After the pair have climbed on the boxes and taken up the rope, the Barker plays a brief fanfare on a horn to start the match.  However, the duo engage in a prolonged battle which lasts until the Barker informs them that it's closing time, and she needs her boxes back.  The Barker was played by Wilder Smith.
Trivia
Normally the Barker would award the victor a medal, but Buffy and Jonah did not give her the opportunity to do so in their match.
Wilder Smith also supplied the voice of the T.V. Narrator of the nature special Cyrus and Iris were watching during Friends Like These.
Wilder Smith is also the partner of Lilan Bowden in the sketch comedy duo Lilan and Wilder.
She appears in the behind-the-scenes versions of the season ending credits.
Dad #1
Dad #1  was seen watching the basketball game between Jefferson and the Knights, sitting next to Andi.  By the second half, he has moved up to the front row, leaving room for Cyrus and Jonah to sit with Andi when they finally arrive to watch the game.  He looks concerned when Buffy drops the ball, but he joins the rest of the crowd in a standing ovation, when Pat Driscoll enters the gym to embrace Buffy, after months of overseas duty.  Dad #1 was played by Tim Shoemaker.  
Jefferson Basketball Player #3
Jefferson Basketball Player #3 was first seen in the Jefferson Middle School cafeteria, dropping a chocolate muffin tossed to him by TJ Kippen, who strangely, opts to stomp on the pastry rather than simply picking it up.  Weeks later, after Buffy calls a timeout during the game against the Knights, clearly tired of the conflict between Buffy and TJ, just tells the team captain to give her the ball, to which Buffy thanks him, as TJ finally agrees.  Sometime later, after Buffy has led the then TJ-less team to victory over the Raptors, he high fives the newly dubbed, "Slayer."  He later signs a basketball for Jonah with the rest of the team to put in Buffy's time capsule.  Jefferson Basketball Player #3 was played by Clinton Brandt.
Appearances
Trivia
The character first made an uncredited appearance as the pal of TJ that drops the chocolate muffin in the cafeteria during There's a Mack in the Shack.
A different character wore Jefferson jersey #3 in a previous episode.
Possible Names:

Connor
Jack Green
Will Lerner
Michael Long
Randy Miller
Nick Nelson
Andrew Scott
Joshua Smith
Scott Smith
Doug Tyler