Joshua Rush is an actor known for his roles in "Mr. Peabody & Sherman", "Parental Guidance", and "Sex, Death and Bowling" among others. On Andi Mack, he portrays Andi's friend Cyrus Goodman.
Biography
Born on December 14, 2001, Rush has already compiled a lengthy list of credits in both animation voice work and live-action roles for television and film. His voice work includes roles for animated characters in "Family Guy," "The Cleveland Show," Disney XD's "Gravity Falls," and most recently the beloved honey badger, Bunga, on Disney Junior's "The Lion Guard."
Rush appeared in the television series "Chuck," "Heroes," "CSI: NY" and ABC's "Private Practice," and in a starring role in the feature film "Parental Guidance" alongside Billy Crystal, Bette Midler and Marisa Tomei. He also appeared in several film festival projects.
Originally from Houston, Texas, Rush now resides in Los Angeles with his family. He loves science, technology and animals.   
Filmography
Andi Mack ( 2017 - present)
The Lion Guard (2016 - present)
Star vs. the Forces of Evil (2015 - 2017)
The Adventures of Puss in Boots
Clarence
... more...
Triva
Joshua loves to watch action movies
In future he would like a job in either politics or film
Joshua also loves coffee
His fan mail address is: 9607 Arby Drive Beverly Hills, CA 90210 USA
Videos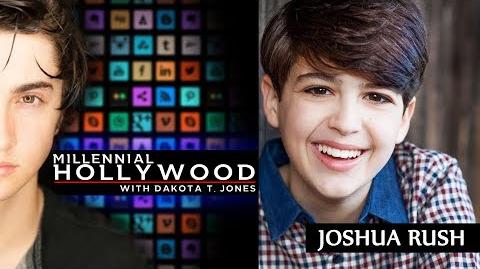 References
Ad blocker interference detected!
Wikia is a free-to-use site that makes money from advertising. We have a modified experience for viewers using ad blockers

Wikia is not accessible if you've made further modifications. Remove the custom ad blocker rule(s) and the page will load as expected.