The Story of Cyrus and Jonah
"

Did you see that? Jonah Beck said hi to me. Like whatever, no bd. We're friends!

"

— Cyrus about Jonah
Jyrus is the pairing between Cyrus Goodman and Jonah Beck on the TV series, Andi Mack. Cyrus thinks Jonah Beck is cool and wants to be close to him. Jonah usually acts kind towards Cyrus. They are portrayed by Joshua Rush and Asher Angel. It is revealed that Cyrus has a massive crush on Jonah.
Ship name:
Moments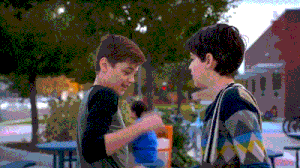 When Cyrus learns about Jonah Beck and Andi practicing frisbee together, he says that's the best thing to ever happen and it didn't even happen to him.
Cyrus gets nervous and tongue-tied when he sees Jonah Beck approaching; and when Jonah talks to him.
Jonah Beck is pleased when Cyrus says he's their first fan.
Cyrus thinks Jonah Beck is very cool for having a high school girlfriend.
Cyrus is excited for Jonah Beck during the first Space Otters Frisbee game.
Cyrus helps Jonah Beck's team by providing them with sunscreen, drinks and snacks.
Jonah Beck leads the team to cheer for Cyrus which makes Cyrus very happy.
Cyrus gets nervous and starts to tense up when Jonah comes over to talk to the three of them.
Cyrus photobombs Jonah Beck and Andi Mack's selfie.
Cyrus tells Buffy and Andi how amazing it is for Jonah to say hi to him.
When Jonah asks Cyrus to talk, Cyrus gets nervous thinking he did something wrong.
When Andi is talking about staring at Jonah, knowing that he would never love her, Jonah is looking at Cyrus the same way.
Jonah and Cyrus do a handshake and try a "hi-five" but Cyrus is too nervous so he messes up.
Cyrus calls the double date a hang with Jonah and doesn't seem to remember it's about Iris.
Cyrus asks Andi for advice on what to wear on his hang with Jonah.
Both Jonah and Cyrus are afraid of riding the rides.
After the wreck during the date, Cyrus is most worried that Jonah Beck might never talk to him again.
Cyrus says Jonah Beck is like a human sunbeam.
When Jonah Beck gets brokenhearted after finding out about Amber, Cyrus says he didn't need to know that Jonah Beck is human.
Cyrus offers to talk to Jonah Beck instead of letting Buffy do it.
Cyrus smiles when Jonah says that he doesn't want a girlfriend.
Cyrus cheers Jonah up by asking him to follow his heart, and he can do anything since he's Jonah Beck. Unfortunately, it backfires when Jonah follows his instincts to get back to Amber.
Cyrus doesn't seem excited about Andi ever finding out what Jonah Beck wanted to tell her.
It's shown once again that Cyrus is the only fan of Jonah Beck's Space Otters Frisbee team.
Cyrus smiles when he gets a text from Jonah Beck but is surprised when the text says, "U R Girly."
Cyrus enlists Buffy to help him learn how to talk to Jonah Beck and impress him.
Cyrus gets so nervous around Jonah that he can't even think of a cool nickname for him.
Jonah says Cyrus is cool and he reveals that the text was meant to say "Gnarly" but got auto-corrected.
When Amber and Iris bail on their double-date with Cyrus and Jonah, Cyrus blows off Buffy just so he and Jonah could still do the date alone, without the girls.
Jonah Beck and Cyrus buy matching jackets and they plan to wear them at the same time.
Cyrus is so excited to show Buffy all the photos he took with Jonah Beck during their time together.
Cyrus is heartbroken when Jonah Beck fails to wear the matching jacket and calls it "dorky."
Cyrus tries to play cool and act like he's not hurt in front of Jonah Beck but makes it clear to Buffy that he's hurt.
Cyrus stares at Jonah through the window when he taps on it to talk to Andi Mack.
Cyrus and Jonah Beck wave at each other despite Andi's wish for a Jonah-free lifestyle.
Cyrus tells Andi he misses Jonah Beck and that he liked it better when they liked Jonah.
Amber tells Jonah that if Andi looks back, she likes him more than a friend. Both Andi and Cyrus look back. In fact Cyrus looks at Jonah the longest.
Jonah talks to Cyrus to help figure out what's going on with Andi; and Cyrus wants to help him out.
Cyrus tries to cheer Jonah Beck up by bringing up Space Otters next game, but Jonah is too upset to be there. So, he asks Cyrus to tell the team that the game is cancelled.
Jonah invites Cyrus to an event concerning their frisbee team.
Jonah and Cyrus dine with friends at the Spoon.
Cyrus reveals to Buffy that he has feelings for Jonah, and is jealous of Andi's relationship.
Cyrus stares at Jonah Beck along with Andi Mack when Jonah is talking to some friends across the cafeteria.
Buffy and Cyrus have a conversation and he tells her that seeing Jonah and Andi together doesn't pain him. Buffy knows that he's lying.
Iris comments on how much she likes Cyrus' uncomplicated life, making Cyrus tense, knowing that he has to tell Iris about his feelings for Jonah Beck sometime.
Jonah attempts to teach Cyrus how to skateboard.
Similarities
They both go to Jefferson Middle School.
They're both friends with Andi Mack.
They're both quite sensitive.
They both have a girlfriend.
They're the only male main characters in the series.
Differences
Jonah is athletic, while Cyrus is not.
While Jonah is very sociable, Cyrus tends to be awkward around other people.
Jonah seems to be popular, while Cyrus isn't.
Quotes
| | |
| --- | --- |
| Buffy: | He's coming over. |
| Cyrus: | I'm so nervous. |
| Jonah: | Hey friends of Andi Mack. |
| Cyrus: | (nervous, whispering) Jonah Beck? |
| Jonah: | You can just call me Jonah. |
| Cyrus: | (whispering to Buffy) Did you hear that? Jonah Beck just said we can call him Jonah. |
| | — |
"

If I was him... (pauses for 10 seconds) it would be so great if I was him. Where was I?

"
Trivia
In "Hey, Who Wants Pizza?" Cyrus reveals that he has a crush on Jonah Beck.
There is a speculation that Jonah could feel the same later in the series, based on possible foreshadowing from Best Surprise Ever, but nothing is confirmed yet.
Ad blocker interference detected!
Wikia is a free-to-use site that makes money from advertising. We have a modified experience for viewers using ad blockers

Wikia is not accessible if you've made further modifications. Remove the custom ad blocker rule(s) and the page will load as expected.