"

What about me makes you think that I am most people?

"

— Cyrus to Buffy, "

Shhh!

"
Cyrus Goodman is a main character on Andi Mack. He is one of Andi's best friends. Cyrus is portrayed by Joshua Rush.
Biography
Cyrus is a student at Jefferson Middle School and friend of Andi Mack and Buffy. Cyrus was the first one to see Bex's "secret baby" picture when he was going through Andi's stuff in the Andi Shack. In Shhh!, Cyrus started helping Jonah Beck's Space Otters frisbee team by providing them with sunblock, cool drinks and snacks to keep them refreshed.
Since Andi told him and Buffy that she is the secret baby, Cyrus has been supportive and there to listen to Andi about the tension at home. In Dancing in the Dark, Cyrus tries to help Andi with the situation by telling his mom the secret. Since Cyrus' mom is a big gossip, she tells everyone in town about Andi and Bex's secret. He says he did it to make it easier to Andi since telling each person would be very difficult for Andi. During Andi's party, Cyrus tries to introduce himself to Amber but realizes that Amber already knows him and in fact, Amber introduces Cyrus to her friend, Iris who thinks Cyrus is cute. Cyrus is the one who wons Andi and Bex when their parents return home during the party.
In It's Not About You, Cyrus is proud that he can now confidently talk with Jonah Beck. Jonah asks Cyrus to double date with him and Amber, and Iris. Cyrus reveals to Jonah that his parents are both shrinks who got divorced and married another set of shrinks. He also reveals that he is Jewish. Cyrus is excited to hang with Jonah and also to see Iris. He asks Andi for date advice and how to dress. Unfortunately, he embarrasses himself during the double date when he gets nauseous at the merry-go-round rides. He pukes in his shoe and walks back home in one shoe.
Cyrus gets concerned about being too girly when he receives a text from Jonah Beck saying "U R Girly" in Terms of Embarrassment. He asks Buffy about it and Buffy tells him to calm down since there's nothing wrong with being girly. Cyrus enlists Buffy to help him look and act more manly in order to impress Jonah Beck. Buffy teaches Cyrus sports talk, how to shake hands like a boy and even how to nod to Jonah. When ready, Buffy takes Cyrus to meet Jonah Beck but he's still too nervous. Jonah notices Cyrus' new look and reveals that he likes his usual look. Then Cyrus wonders why Jonah thinks he's girly. It turns out Jonah meant to say he's "gnarly" but it was autocorrected to "girly." Cyrus is happy when Jonah says he's cool and he's relieved that he doesn't have to change himself to impress Jonah Beck.
In "Home Away From Home," Cyrus and Jonah Beck are supposed to go on their second date with Amber and Iris but then Iris isn't responding to Cyrus's text. Cyrus assumes that Iris has dumped him. So, he asks Buffy to go with him as Iris replacement since he'd already bought the tickets. But agrees half-heartedly. On the day of the double-date, Jonah comes alone and tells Cyrus that Amber and Iris are doing their own thing together because they overhead that Cyrus has moved on to another girl. Cyrus explains why he's going with Buffy but Jonah reveals that Iris was just giving him the silent treatment; something she learned from Amber. With Amber and Iris out of the way, Cyrus blows Buffy off and asks her to leave so that it's just him and Jonah Beck for the date. That's what Amber would have wanted.
Cyrus and Jonah have a very fantastic date together during which Cyrus takes a lot of photos of himself and Jonah. They even buy matching jackets. Afterwards, Cyrus shows the photos to Buffy who is still disappointed that Cyrus blew her off for Jonah Beck. Buffy tries to force Cyrus to give her the jacket because he owes her for that but Cyrus refuses because he and Jonah have plans to wear the matching jackets together. Unfortunately, Jonah shows up without the jacket. Cyrus asks him why he didn't wear it and Jonah simply tells him he thought it was dorky. Cyrus is heartbroken. He gives the jacket to Buffy.
Cyrus makes a mark with The Good Hair Crew in "Were We Ever?" when they protest together against the unreasonable dress code. Despite being concerned of not getting to use his James Bond collection shirts and the picture day pose he'd planned, Cyrus helps Buffy and Andi run a successful protest.
Following the protest and the fallout between Andi and Jonah Beck, Cyrus feels bad that they now he can't interact with Jonah Beck as he used to. In "Best Surprise Ever", Cyrus still wants to be close to Jonah Beck but Andi wants a Jonah-free lifestyle. Cyrus even waves at Jonah against Andi's wishes. He says that he liked it better when they liked Jonah Beck. After leaving the diner, Amber tells Jonah that if Andi turns and looks back, she likes him, and not just as friend.
Cyrus turns and looks back at Jonah Beck, implying that he likes him. And not just as a friend.
Coming Out
In Hey, Who Wants Pizza?, Cyrus introduces his girlfriend Iris to Buffy and Andi but he seems uncomfortable around her.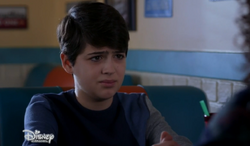 Later, Cyrus and his friends are invited by
Jonah Beck
to the
Space Otters Frisbee Team
party during which, Jonah awards Cyrus the MVP of the team. After the party, Cyrus is excited to talk to Jonah but Jonah only wants to talk to Andi. Cyrus is disappointed. When alone with Buffy, Cyrus admits that he was jealous when he saw Jonah and Andi talking. Buffy asks him if he likes Andi but Cyrus denies it in a way that makes Buffy realize that Cyrus likes Jonah.
Cyrus then comes out to Buffy, revealing that he has a crush on Jonah Beck.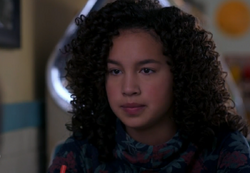 He tells Buffy that he feels weird and different but Buffy tells him that he is not different. Buffy makes sure that Cyrus knows that she supports him and will always be there for him. They are both glad that Cyrus told Buffy about it. Next, Cyrus is now faced with some challenges. How is Cyrus going to tell Andi that they both have a crush on the same boy? And how is Cyrus going to break it to his new girlfriend, Iris, that he likes boys?

In Friends Like These, Iris asks Cyrus out on a date at her house while she's home alone. When Iris leans in for a kiss, Cyrus feels pressured to kiss. So, he gives her a quick awkward kiss on the lips. He apologizes to Iris for the horrible kiss. Iris tells him it will get better but Cyrus says it won't. He is not ready to tell him why he's not attracted to her. So, he walks out, leaving Iris confused. Later on, Cyrus confides with Buffy about the awkward kiss experience. Buffy promises him that it's going to be okay.
Personality
Cyrus is a very supportive especially towards his friends, Andi and Buffy. He may not be the strongest, coolest boy in school but he sure does stand up for his friends. Cyrus is proud of himself and who he is and doesn't try to be like everyone else as he tells Buffy in "Shhh!." Cyrus can be a little clumsy at times as he often runs into glass doors.
Relationships
The Good Hair Crew
Main Article: Good Hair Crew
Buffy and Andi are Cyrus's best friends. Cyrus spends most of his time with Andi and Buffy. He accepted to take the blame so that Andi doesn't get in trouble for riding the motorbike. When he thought Andi's big change was having her first period, he acted very supportive and didn't want to pressure Andi into talking about it if she wasn't ready or comfortable. When Buffy messed up during the relay race, Cyrus tried to advise her that winning isn't everything. Cyrus thinks the trio should call themselves "The Good Hair Crew."
Main Article: Andi and Cyrus
Main Article: Buffy and Cyrus
Main Article: Cyrus and Jonah
Cyrus likes Jonah Beck and thinks he's pretty cool. He has been supplying Jonah Beck's frisbee team with refreshments and sunscreen during games. Jonah Beck led everyone to cheer for Cyrus in "Shhh!."
Iris
Main Article: Cyrus and Iris
Iris has a crush on Cyrus. She thinks Cyrus is cute and she even asked Amber to set them up on a double-date. However, Cyrus hasn't shown much interest in Iris so far. "Home Away From Home", after he was under the impression she dumped him, he remarked, "It is better to have once loved then never have loved at all, or whatever I was feeling toward her." He also didn't seem to have much concern about the breakup other than not being able to go to a sporting event with Jonah and Amber without a date.
Trivia
Cyrus is the first lead character on Disney Channel to come out as gay.
His parents are both psychiatrists who got divorced and married another set of psychiatrists.
Cyrus is Jewish.
He's afraid of Amber.
He thinks Jonah Beck is cool.
It is heavily implied that he has a crush on Jonah Beck.
His mother is a gossip and can't keep a secret.
He wants to call their clique the "Good Hair Club."
He gets motion sickness on the carousel ride.
He uses an inhaler as revealed in Dad Influence.
Quotes
"

Yeah, totally. Yeah, full-throttle outlaw, kissing asphalt on my hog... those are all the biker words I know.

"
Gallery
| | |
| --- | --- |
| | To view the Cyrus Goodman gallery, click here. |
Referrences
Ad blocker interference detected!
Wikia is a free-to-use site that makes money from advertising. We have a modified experience for viewers using ad blockers

Wikia is not accessible if you've made further modifications. Remove the custom ad blocker rule(s) and the page will load as expected.