"

I'm not your grandmother!

"

Celia Mack is a main character on the TV series, Andi Mack. She is Andi's grandmother/adoptive mother. Celia is portrayed by Lauren Tom.
Biography
Celia is the wife of Ham Mack and the mother of Bex Mack. When her teenage daughter, Bex gave birth to Andi, Celia raised Andi as her own daughter since Bex wasn't ready to settle down yet. She was disappointed by Bex for abandoning Andi. However, she loved Andi and developed a very strong connection with her as her mother.
However, things changed when Bex came back home on Andi's 13th birthday and told her that she was ready to settle down. Celia was very upset when Bex revealed to Andi that she's not her sister but her mother, meaning that Celia is Andi's grandmother. Celia didn't want to accept that she is a grandmother and most importantly doesn't want to lose her daughter, Andi. This created tension between Celia and Bex.
Since the secret was revealed, Celia has had a hard time accepting the fact. She has been putting a lot of energy in an effort to prove that she's a better mother for Andi than Bex is. In Shhh!, she fights with Bex for being irresponsible and putting Andi in danger by letting her stay up late watching a scary movie. She doesn't want to let Andi go but Bex tells her that she is still in Andi's life. She just needs to let Bex in. In Dancing in the Dark, Celia is disappointed when the secret gets out to the whole town that she is the grandmother. When her neighbor, Lillian mocks her about it, Celia breaks loose and sprays her with a garden hose. Ham tries to calm her down by taking her for a weekend getaway. However, the fun is ruined when they get a call that Bex and Andi are throwing a party. Celia is so disappointed that she refuses to talk to Bex and Andi for days.
When Celia starts talking to Andi and Bex again, she is surprised to see Bex trying to be more responsible in the house. In She Said, She Said, Celia makes it very difficult for Bex to prove that she is trying to be a better mother. However, she goes to The Fringe to ask Bex to give her a makeup to go see Wicked. For a moment, she is almost proud of Bex until Bex encourages Andi to miss school. It gets worse when Bowie Quinn comes over and Bex tells Andi that Bowie is the father.
Personality
Celia is strict and overprotective to Andi. She is concerned that Bex is not responsible enough and could cause more harm on Andi. She is quite age sensitve and has not come to terms with the fact that she is a grandmother.
Relationships
Bex Mack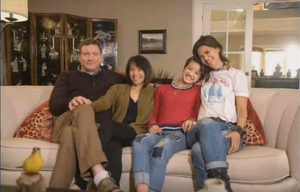 Bex is Celia's daughter, but there is a lot of tension between them because Celia is strict while Bex is fun, adventurous and a little irresponsible. Celia had to raise Bex's baby when Bex abandoned her so that she can travel the world.
Andi is Celia's granddaughter. Before the secret was revealed, Celia and the rest of the family had lied to Andi that she's Celia's daughter. Celia is very protective of Andi and is scared of losing her to Bex.
Ham is Celia's husband. He is supportive of Celia and her decisions.
Trivia
In Shhh!, it's revealed that Celia used to be fun and wild when she was younger. She used to go by the name "Cece", and now Andi calls her by that.
She has grown fond of Bowie, and is completely accepting in his becoming a part of the Mack family, and would welcome him as a potential son-in-law.
She is currently taking dance classes. ("There's a Mack in the Shack")
Gallery
| | |
| --- | --- |
| | To view the Celia Mack gallery, click here. |