Welcome to the Andi Mack Wiki!
Featured Character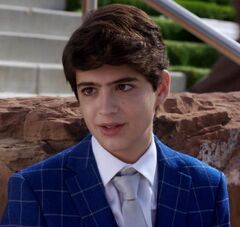 Cyrus undergoes major development in
Season 2
as he makes history by becoming the first LGBTQ main character on Disney Channel in the United States. He comes out to
his friends
about his crush on another boy,
Jonah Beck
.
Read more...
About the Andi Mack Community
Andi Mack is a Disney Channel original series about a 13 year-old girl, Andi Mack who is trying to discover her true self after her world is turned upside down when her older sister returns home and reveals that she is her mother.
---
You can help the Andi Mack community by contributing to articles. Remember to review our guidelines. If you have any questions, please contact the administrators.